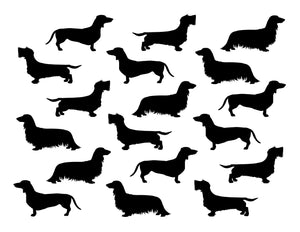 Long Dog Apparel
Dachshund Silhouette Vinyl Decals
Regular price
$10.50
$0.00
Dachshund decals are a great addition to any vehicle/window/computer/school book.... basically any solid (non-porous) surface!

Machine cut and hand-assembled/packaged in Minnesota.
Dimensions: 8.5x11 (image is 7.5x10 edge-to-edge)
This design is seamless so it can be tiled to create a larger area.
You can apply as one large decal or cut them apart for individual decals.
If you're interested in a custom size, please contact us at info@longdogapparel.com for a quote.
---